Dear Knights,
patch 1740 brings the following changes:
1. Achievement Board
Easy Zone
Hard Zone
Spin wheel
Achievements will now show the "Royal Prem Requirement" in the description on the Achievement Boards in game.
Hope that will make things more clear.
2. Dark Vane
got new stats: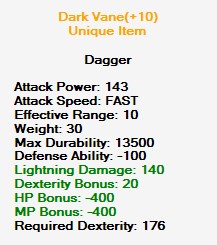 Client side is showing 139 AP atm. But correct AP is 143.
We might increase it to 145 with next patch - need some testing.
3. 1h Spears
got more elemental dmg to make duals work better in pk.
4. Spear of Murky
got Club, Spear, Axe def now.
5. 2h Chaos Spear
got a very small nerf.
We did some tests and found that it hit slightly more dmg than Yellow/Green TSword. Its more balanced now.
6.
some minor changes about
weapon rpr costs
7
. increased drop rate on
Miner Spiders
Reduced drop from NP Vouchers in
Easy Zone
This zone is primarily for new players and not for farming vouchers!
We hope you support those changes!
Cheerz!
MAXKO Team

_________________


Man is unhappy...because he doesn't know he is happy.




- Dostojewski -