NUEVA ACTUALIZACIÓN
LA FAMILIA Dorada LLego a Titan !!!
Las armas de Doradas llegaron al juego como el evento de verano. (para otros sera invierno

)
Con esta nueva actualización, harás aún más daño en el campo
ya sea en tu lucha y en tu victoria ... la mayoría de los jugadores lo saben muy bien,
¡conviértete en un guerrero invencible! disponible para un priest (bp), roguer, mago y warrior con la nueva
potencia integrada de las llamas.

Take the Chaos to the MAX ... Deja que el juego Sea aun mas alucinante.
EL EVENTO DE VERANO FINALIZARÁ 20.08.2018 Y TODAS LAS ARMAS DE ORO SE RETIRARÁN DEL JUEGO.


Todas las Armas y sus Stats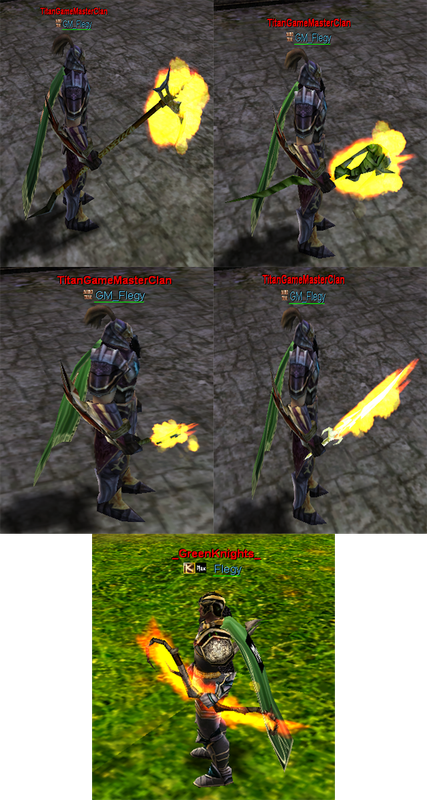 Para obtener armas Doradas solo necesitas jugar. Qué significa eso?
Eso significa que puedes obtener armas de oro jugando a Forgotten Temple, BDW, KILLING RACE, PK en tu zona favorita.

Cuando encuentres GOLD Weapon +5 tienes la posibilidad de upgradearlo a +10. [/ color] [color = # FF0000] ¡ADVERTENCIA! No es fácil, entonces usa trina (hay dos opciones de tirnas para usar ahora tu escoges con cual subir tu arma)
Para facilitar el upgrade, agregamos una nueva trina en el juego. ¡TRINA DE ORO! Se puede encontrar en PUS por un pequeño precio y en recompensa de Voto en PANEL.
Porcentajes del Upgrade
Blessed Upgrade Scroll

De +5 to +6 = 35%
De +6 to +7 = 25%
De +7 to +8 = 20%
De +8 to +9 = 15%
De +9 to +10 = 10%
Blessed Upgrade Scroll
+
Trina


De +5 to +6 = 45%
De +6 to +7 = 35%
De +7 to +8 = 30%
De +8 to +9 = 25%
De +9 to +10 = 20%
Blessed Upgrade Scroll
+
Trina de Oro

De +5 to +6 = 60%
De +6 to +7 = 50%
De +7 to +8 = 45%
De +8 to +9 = 40%
De +9 to +10 = 35%

Otros Cambios
### Los skiles de de restore (recuperacion) pasion del warrior han sido reducidos en un 20%. Para hacer mas equilibrado en los versus ###
### Nuevo requisito de HP para Tstaff y Dwand ###
### La Bandera de Marruecos a sido agregada ###